MY GARDEN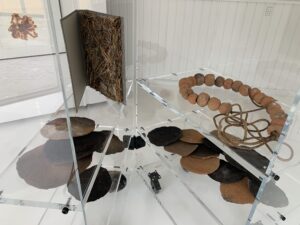 Birthe Laursen Art Agency opens the exhibition My Garden on 29 July by visual artist Anja Franke in Gilleleje. The solo exhibition will present a number of new watercolors an d objects, all of which point back to the artist's garden in Herlev.
Franke's practice is based on the conceptual method, where she primarily examines feminist perspectives in nature and in the private sphere.
Since 2004, Franke's home has functioned as a studio, laboratory and international exhibition platform (InstantHERLEV institute). The private cadastre can be seen as a metaphor and a micro-community that reflects one globalized state in continuation of the climate issues of which we are all a part. The garden itself is a resource in Franke's artistic production, where material is extracted through the grave and observation. She examines the earth and what the earth transforms with the aim of creating new understandings of the state of the earth and our human relationship to it. Land as material holds a wide range of meanings and connotations around concepts such as ownership, nationality and territories into more abstract ideas about religion, perishability and organic processes. Likewise, Franke processes her material in the garden when she burns, molds and exposes it to the very environment from which it comes.
In continuation of her method, Franke has developed the concept of 'austerity aesthetics', which forms the basis for her work and practice. The concept revolves around the circular thinking that reflects on dilemmas arising from our consumption's compromise of nature and change of our climate. The world is used, nature diluted as a practical resource, the principles of industrialization and growth are obsolete. We are facing a paradigm, a psychic social state that can be seen and must be felt.