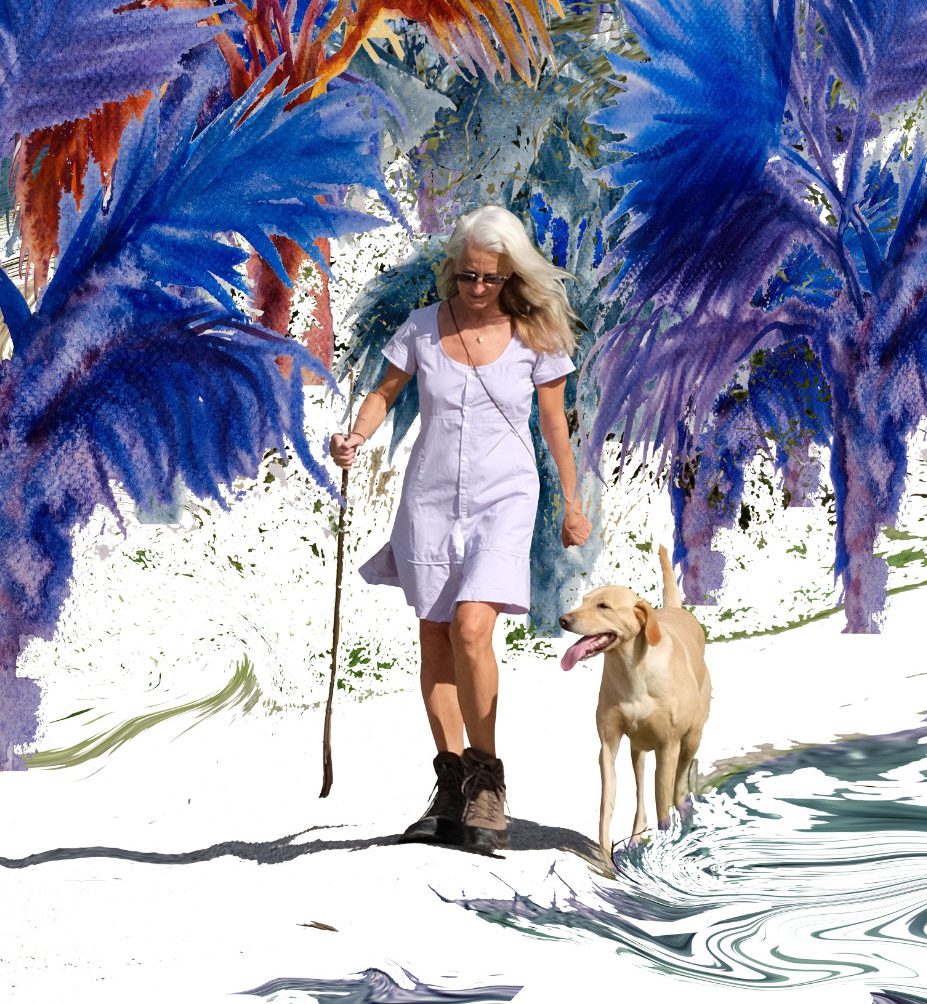 RUNNING OUT OF BLUE, Anja Franke visit Astrid Noack
Involving exhibition project focusing on change processes on a personal, micro-political level as well as on a global macro-political level. The background for the project is a 10 days hike in the mountains of Spain. I use the walk as a mental recognition method, where I move into the uncertain to map and search for new routes and to open up alternative thought patterns.
In Astrid Noack's Atelier, which served as Astrid Noack's modest workspace and private home in the period 1936-50, I set up a sewing room where audiences can transform old brought shirts into a walking dress identical to the one I wore during my mountain walk. By reactivating the room's original workshop function and 'decorating' it with poetic pictorial elements such as watercolors of palms that I have memorized from my walk – palms slowly draining for blue color – the present and the past, the private and the public, the mental and the bodily. Through the creative transformation process, in which a used garment is slowly transformed into a new one, I point with an `Accuracy aesthetics` indirectly to the necessary change we all on the planet have to imagine if we and the globe are to survive in the long term. Like me, looking for answers to questions that do not have easy answers, audiences are encouraged to try new ways of working and to consider and discuss urgent topics such as value creation, climate, shared responsibility and alternative solutions.
In RUNNING OUT OF BLUE, my private narrative and everyday thoughts about art, everyday life, climate change and accuracy are thus combined with a larger global perspective on our common future on the planet. At the same time, the exhibition creates a common social space where the audience is mobilized as active with creators and co-interpreters. The audience can bring their own used shirts, which, as directed by me, can be stitched into their own 'sustainable' walking dress.
The exhibition is supported by the Danish Art Council.