Tip Top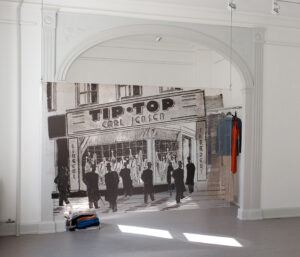 Tip Top Herretøjsmagasin (Tip Top Men's Clothing Shop), was my grandfather Carl Jensen's business, located in Møllergade 6, Svendborg. Here, he sold men's clothes from 1933-49. He died in 1949. My mother was 16 years old. Later she moved to Copenhagen and graduated as a tailor and designer. My mother Pia Franke Hedegaard passed away in 2006. In the aftermath of her death, I took a variety of materials from her workshop studio.
This new artwork consists of two parts, which were installed in Svendborg: SAK- kunstbygning (SAK art building) and the Louis Nielsen boutique on Møllergade 6. This part of the work consists of my mother's curtains, with a print of my grandfather's shop window Tip Top from Møllergade 6. The illustration above is from an ad in Svendborg's local newspaper, circa 1943. The second part of the work is seen in the SAK Art Building, which here consists of the same image of my grandfather's shop window, printed on Plexiglas. Behind the plexiglas lies on the floor textiles from my mother's sister's room. Out of fabrics I have drawn and sewn a new collection, to myself.
Essentially, the work is about loss, sadness and transformation.  It is about how I can better understand my mother's grief when she lost her father or when I lost my mother. Care is a persistent feeling that creates great change when you are ready to seize it.
Title of work: TIP TOP
Shown at Svendborg: SAK- kunstbygning (SAK art building) and Louis Nielsen boutique Mølergade 6, Svendborg.
Materials: Plexiglas, textile, metal, and image-printed mirror.
Year: 2018.